The RapidPro module clip is the logical development of the proven Rapid16 module clip that has been used successfully in many applications.
The number of clamps has been drastically reduced due to the flexibility of the design. All module terminals are equipped as standard with a ground pin.
Thanks to the enhanced click channel of ProLine profiles, only
a center clamp and an end clamp are used for all module frame thicknesses from 30 to 47 mm.
This reduces complexity, simplifies selection and optimizes
storage
Clamping length 50 mm
Material: Aluminum EN AW 6063 - T66
Clamping height for all modules from 30 to 47 mm
Integrated ground pin
Can only be combined with ProLine profiles
One instrument: T40 Torx
Completely pre-assembled
Quick installation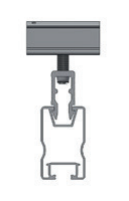 Doar pentru profilele din seria ProLine!