ProLine profile series made of Aluminum EN AW 6063 - T66 with suitable accessories. Mounting with ProLine series module clamps and the ProLine click system. Mechanical connection: ProLine click channel at the top, M10 screw channel at the bottom, 30 mm x 35 mm.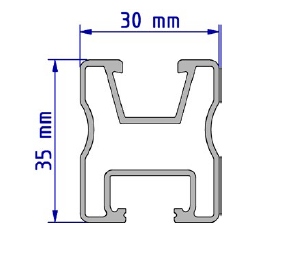 Profile of the new ProLine series with mounting accessories.
Can be combined with roof hooks, connectors and clamps from the ProLine series.
Pro35 module support profile
Mechanical connection
Top: KlickNut Pro
Bottom: M10 screw channel